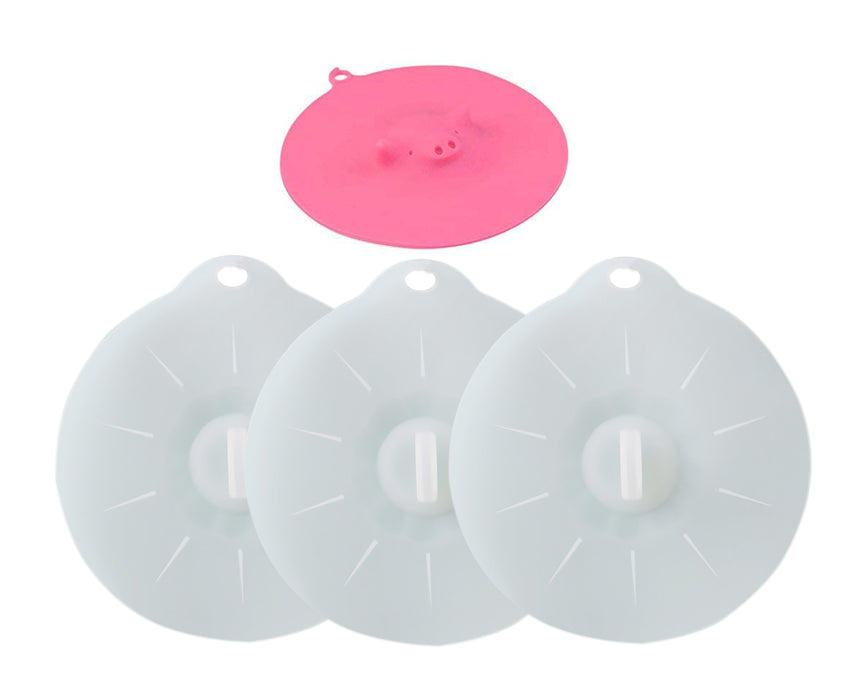 3+1 Silicone Bowl Lid (White and Pink)
FOOD GRADE SOFT SILICONE HIGH QUALITY

 

– Sturdy Yet Flexible! FDA Approved Material, BPA-free, Odorless, and Non-Toxic! Can be Used with Microwave, Oven, Heat Resistant, and can withstand up to 450 degrees Fahrenheit.
SET of 4 COLOR (

 

BLUE, GREEN, PURPLE + 1 PINK PIGGY LID

) 2 DIFFERENT SIZE LIDS- Includes 3 Our Most Popular Size 7.68 inches (19.5cm) lid ideal for salad & soup bowls, small pots, small frying pans, and 1 smaller silicone pink piggy food cover 5.12 inches (13cm) Perfect for Cereal Bowls.
ECO-FRIENDLY AND SAFE TO USE

 

- Creates an Airtight, Watertight Seal for Reheating and Storing. Environmentally Friendly: Washable and Reusable. Easier to Use than Plastic Wrap: Just Press Down to Create the Perfect Seal.
PRESERVES OR REHEAT FOOD & SAVES MONEY

 

– Great for Reducing Food Waste by Preserving Leftovers in the Refrigerator. Use Again & Again & Quit Use of Wasteful Aluminum & Plastic Wraps. Save Money on Aluminum Foil and Plastic.
HEAT RESISTANT & EASY TO CLEAN 

– Cooking Lids Withstand Temperatures from -4

0 Degrees F up to 450 Degrees F and Can Be Used in the Freezer, Oven, Microwave, and Dishwasher.
Bring your kitchen to life with these fun and colorful silicone food covers. Worry no more about keeping your food fresh and storing leftover food. JJMG Food Grade Silicone suction lids are the solution to your problem. The Silicone Suction lid adjusts to fit almost any type or brand of cookware or container.

It prevents spills by creating an air and watertight seal. No more worrying about storing leftovers or reheating food; just cover your food with our silicone suction lids to keep your food fresh longer in the fridge; hot longer out of the stove; protect your food from flies when outdoors.

Moreover, you may simply place the silicone lids on rims of cups, bowls, pans, glass, ceramic, melamine, and other containers, then gently press for an airtight, leak-proof suction seal. Each of these food covers and utility kitchenware products is food-grade silicone and safe for temperatures up to 450° in the oven, microwave, or on the stove. Drastically reduce the need for Tupperware, plastic wrap, and aluminum foil by using these reusable lids on your baking dishes and cookware before transferring to the fridge for storage, or before transporting to an outing or get-together.

It's every homemakers' ideal kitchenware material that is stain-resistant, easy to clean -dishwasher safe, and convenient to store. The lightweight and non-breakable silicone material make it safe to use even when there are children around. Bigger than a food hugger and can cover more variety of foods.