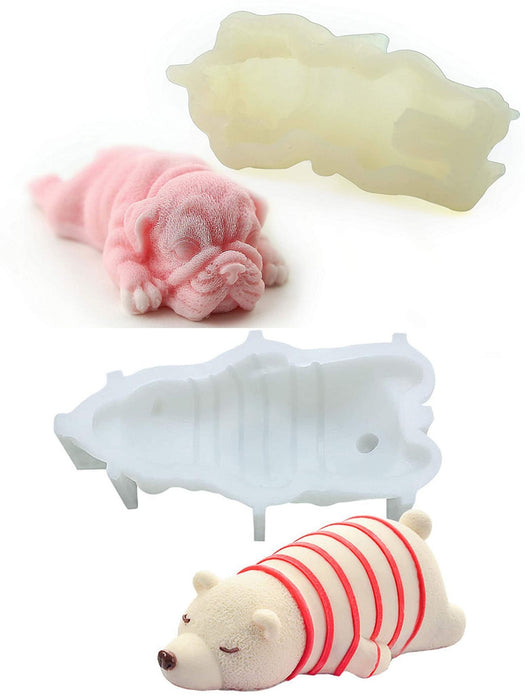 3D Dog & Bear Silicone Mold
FOOD GRADE SAFE MATERIAL - 3D silicone mold is made of 100% Food-Grade silicone, BPA Free, eco-friendly, non-toxic, flexible, soft, reusable, and durable.
SIZE - 5.12" x 2.3" (13cm x 6cm) Leak-proof, Non-sticky, Easy to take shape, and de-mold. Easy to Clean.
EASY TO USE AND RELEASE - Simply pour your favorite ingredients in the mold, and keep the ingredients static until completely formed. This flexible silicone mold offers a non-stick surface that allows the goods to pop right out with a little push from the bottom.
OPERATING TEMPERATURE - Completely safe to use from -40℃ to +230℃ (-40℉ to +446℉) Freezers, Ovens, Microwave ovens, and Dishwashers.
MULTIPURPOSE VERSATILITY - Not only you can use it for Cakes but also Bread, Mousse, Jelly, Chocolate, Cookies, Pudding, Candle, Clay art, Hand soap making, Aromatherapy furnishing articles, and so on.
---
####CHECK BUNDLE PROMO TAB FOR PROMOTION####
---
This non-stick silicone mold is easy to take shape and demold. Ideal for use with a wide range of edible and non-edible materials including DIY cake, mousse, pudding, baking, hand soap making, and aromatherapy gypsum. Great for making cake toppers and it's a must-have 3D jelly tool for kids' entertainment. Whether you are a professional decorator or beginner you can easily make a beautiful cake by using this mold.
WIDE VARIETY OF USAGE:
Mousse cake, jelly, pudding, brownie, ice cubes, melted chocolate, gumdrop, yogurt drop, handmade soap making, polymer clay, craft decorating for kids, or other creative methods you think.
PRODUCT SPECIFICATIONS:
Material: Food Grade Silicone
Feature: Heat Resistant, Stretchy, Durable, Odorless, and Easy to clean
Color: Translucent
Approximate Mold Measurement:  Size mold: 5.9 inches x 3.03 inches (15cm x 7.7cm)
HOW TO USE IT:
Stir up the materials needed for the cake.
Melt the chocolate in a pastry bag, draw Polar bear eyes, nose, and striped clothes.
Freeze it for at least 10 minutes, pour the remaining cake material into the mold and smooth the surface of the mold.
Then freeze it in the -18℃ refrigerator for about 8 hours.
HOW TO DEMOLD
For the sake of sanitation, we suggest wearing disposable gloves. Open the mold surrounding outward, separate from the cake bear, demolding from the hind legs, and hold the cake bear bottom in one hand, one hand holding the mold backward, it is easy to demold.
TIPS:
Clean and disinfect in boiling water.
Do not use knives, steel wool, or sharp objects to avoid damage to the mold.
After use, clean it and keep it away from direct sunlight.
Do not use cool water to clean immediately when it's just taken out of the oven.
SATISFACTION GUARANTEE: Your satisfaction is our very top priority. Any problem with the item please contact us and we definitely offer a satisfactory solution. Add to Cart NOW and Enjoy It Earlier!
Package includes:

1 x 3D Molder (for individual purchases)

2 x 3D Molders (1 bear and 1 dog per set)
BUNDLE PROMO
When you purchase any of the silicone molders,  save a 15% discount on purchase with DIY Soap of your choice! Just key in DIYDOGBEAR15 during checkout. Click the image below!!!