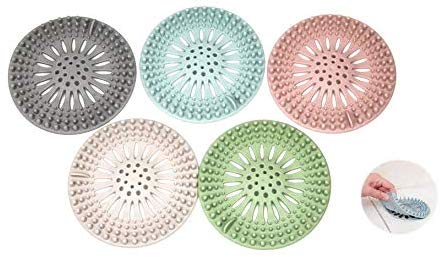 5-Piece Reusable Silicone Plug Cover
MATERIAL - Made From High-Quality Soft TPR Silicone That's Durable, Flexible For Easy Placement, And Easy To Clean. Circle Shape Strainer Good Looking And Practical.
WIDELY USE - It Can Catch Hair, Food Residue, Or Small Stuff To Prevent Drains From Clogging. Perfect For Your Kitchen Sink, Bathroom Bathtub, Shower Cubicle, Or Laundry.
FLEXIBLE SILICONE CONSTRUCTION WITH SMALL SPIKES - Fine Holes Design For Smooth Drainage Besides Preventing Foreign Objects From Escaping Down The Drain. Small Spikes Standing Regularly And Tightly From Outside To Inside Which Gives The Drain Multiple Protection.
NO NEED TO TOUCH ANY RESIDUE - The Small Knob Or A Little Handle Is Designed To Keep Your Hand Away From Residues When You Want To Move Or Clean It.
EASY TO CLEAN - You Can Wash Bathtub Drain Stopper Easily By Warm Water Or Soap. Like All Stoppers, Please Clean The Wastes And Hair In Time, Get Rid Of Clog And Mold.
Have enough protective covers for every drainer in the house so there'll be no residue can sneak and there will be no more clogged drains with JJMG New Silicone Universal Water Drain Food Residue Stopper. It filters hair and other items from becoming caught up in the drain.
This drain protector is specially designed for preventing drains from clogging. Suitable for washbowls, sinks, bathtubs, stall showers, and laundry tubs. This shower drain hair catcher allows you to save on costly plumbers and repair. This drain stopper can be done by yourself with its simple to use and easy to install features, you will never get wrong with getting this one for your bathroom needs.
Made from high-quality Thermoplastic Rubber flexible silicone construction, this made for easy placement. It is not designed to only catch hair, food residue but it also prevents losing your jewelry, keys, or necklace down the drain. Its perforated design ensures a smooth flow of water so that your drainer can do its job without filling up your tub with water, an awesome deal of 5 pieces for the price of ONE. Order yours, now!
Package Includes:
5 Pieces of Drainer Stoppers
30 DAY MONEY-BACK GUARANTEE
Not happy? Here at JJMG, customer satisfaction is our top priority. We provide nothing but 100% quality products and services you just need. If it doesn't work out for you, reach to us and our customer service team will be glad to assist you anytime. So make sure to get yours, today!