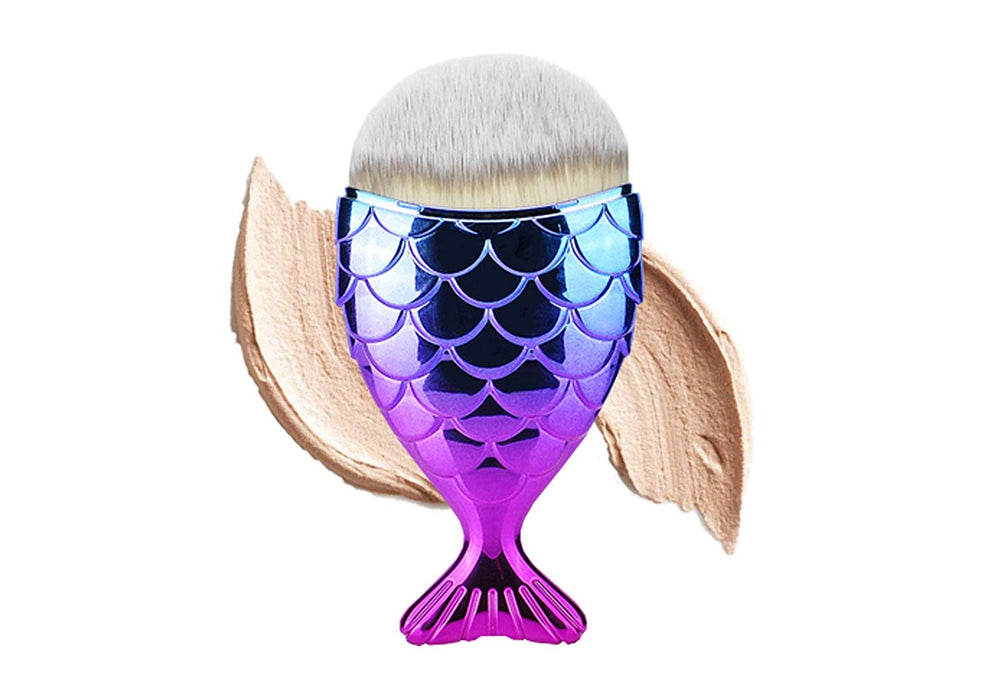 Fishtail Mermaid Bottom Blush Powder Brush (Set of 2)
WORKS WELL WITH FACIAL PRODUCTS – Ideally For Applying Various Cosmetics Such As Powders, Creams, And Liquids. Everything You Need To Achieve That Flawless Look At Work, Party, Home, Daily Makeup, Business Trip, Holiday Travel, Etc. Suitable For Professional Use And Home Use. They say that beauty always comes from the inside. However, enhancing one's inner beauty and revealing it externally with beauty products don't do harm.
FUNCTIONAL – Used For Face Foundation And Cheeks. It Is Easy To Apply And Meets The Requirement of Daily Make-up. No Need To Bring All Your Brushes Because It Can Replace With Fan Brush, Powder Brush, Concealer, Bronzer/PowderBrush.
SOFT BRISTLES – Bristles Are Made Of Top Quality Natural And Synthetic Fiber For Lasting Performance. It Touches Gently On Your Skin And It Doesn't Hurt.
TAKE IT AS YOU GO – It Has A Cover So You Can Take It With You Without Harming or Deforming You're Makeup Brush And It Is Very Convenient To Carry. Reshape the bristles to their original form and lay the brush down on a flat surface to dry. You can also gently brush bristles on a paper towel to remove buildup.
EASY ACCESS CLEAN & STORE - Unique Design that Makes it Easy to Store Your Brush and Will Protect Your Brush. Hang Dry after Cleaning. (Tip: Wash brushes at night so they are dry and ready for use in the morning.) 
Gone are the days when you use your fingers in applying make-up foundation, concealer, highlight, and contouring. When it comes to applying make-up you don't need only need the right make-up but you also need the proper make-up brushes.
JJMG Mermaid Tail Make-Up brush is multipurpose and is designed with the versatility to apply powder and liquid foundation, blush, concealer, bronzer, highlight, or contour. It also carves out the perfect cheekbone and contour. This versatile brush is made of synthetic fibers and its handle is made of plastic. It is ideal for blending cream and liquid products over the skin effortlessly, delivering seamless results. This innovative brush applicator ensures that liquid, cream, or powder-based products are flawlessly blended onto the complexion and can be incredibly smoothed onto the skin creating more definition which will appear natural. It is also a good concealer applicator that masterfully covers the dark circles, blemishes, and imperfections on the complexion. With the ability to contour, highlight conceals, and blend cream, liquid, or powder-based makeup up this will become the new best friend of beauty junkies out there.
Here are some Brush Care step-by-step instructions: Wet the brush with warm water, being careful not to fully immerse the base of the bristles. Place a pea-sized drop of brush cleanser or any mild cleanser like baby shampoo in the palm or cleansing tools. Swirl the bristles in the cleanser in a circular motion until the brush is fully lathered. Rinse the bristles, squeezing from the base to the tips to remove excess water. Repeat until the water runs clear and all makeup is removed from the brush.