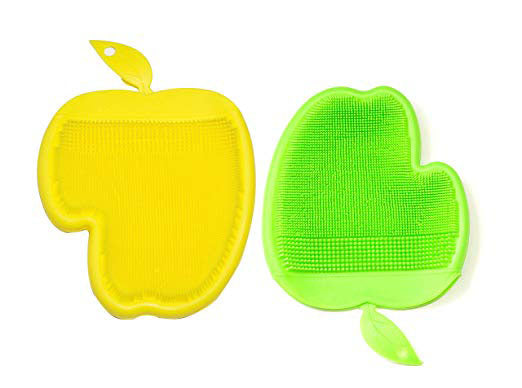 JJMG Silicone Body & Facial Scrubber
EFFECTIVELY CLEANSES & EXFOLIATES – It Cleanses Your Body And Face Of All Dirt, Removes Makeup, Skin Oil Hidden In The Pore, Reduce Size Pores, Erase Fine Lines And Gently Massages Delivering Radiant Results.
REJUVENATE YOUR SKIN – With Its Tiny Silicone Bristles, It Helps Rejuvenate, Exfoliate, Soften Your Skin And Stimulate Blood Circulation Of The Facial Skin Revealing Softer And Smoother Appearance. It Improves Skin Absorption Of Cream, Serum, And Moisturizer.
UNIQUE DESIGN – Apple Shaped Design That Fits Your Hand Perfectly. Don't Worry About Slip Down. The Handle That Goes In Between Your Fingers Make It Easy To Hold And Move Around While Cleaning Your Face.
MATERIAL – Made Of Soft Food Grade Silicone Material That Feels Comfortable To Skin. Super Soft And It Doesn't Hurt The Skin.
PORTABLE AND EASY TO CLEAN – You Can Bring It Even If You Travel Just Put It In Your Handbag Or Makeup Bag. Rinse The Cleansing Scrub After Every Usage With Warm Water And Let It Dry.
JJMG New Facial Scrub is made of top-grade silicone that removes nasty dirt and oil from your pores. It deeply cleanses while massages your facial muscles and exfoliates, at the same time improves blood circulation. It is perfect for washing away makeup and dirt leaving your skin smooth and soft. It gently reduces fine lines and wrinkles.
If you are the type of person who doesn't like harsh cleansing products on your skin especially on your face this is perfect for you. This also helps removes blackheads and whiteheads leaving your skin feeling clean and fresh without hurting your skin like other cleansing products with chemicals do to your skin.
This product is an FDA-approved silicone so it is non-irritant, non-toxic, and safe to use. Facial scrubs are not too rough and not too soft but it's perfect. Soft and fine bristles gently massage your facial muscles while getting rid of dead skin, white head, blackhead, and makeup.
Enjoy the experience of massaging your face especially the nose area. Using this new beauty tool in cleansing your face is far better than using your fingers. This product is travel-friendly because it is made of high-grade silicone so they're tiny, foldable, hygienic, and dries quickly. Very practical for travel.
Note: Please don't forget to wash it after every use.