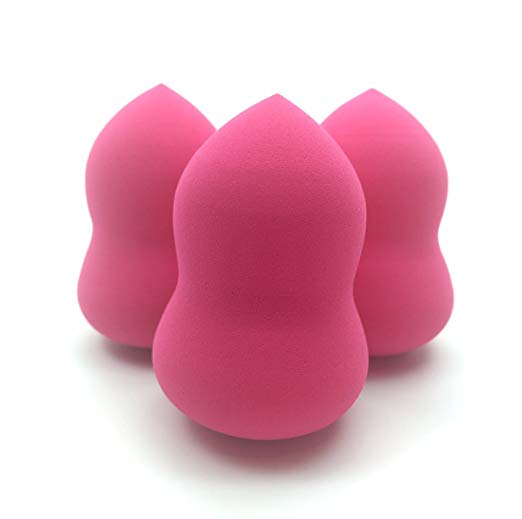 JJMG Latex-Free Makeup Blending Sponge (Set of 3)
LATEX FREE – Toxin Free. Odor Free. Eco-Friendly. Safe Product To Use. Antimicrobial Foam To Help Fight Bacteria. No More Allergic Reactions To Make Up Applicators. Suitable To All Skin Types.
WORK WELL WITH FACIAL PRODUCTS - Our professional latex-free blending sponge is specially designed for blending both dry and wet foundation, blusher, concealer, primers, powders, cream blushes, and any other complexion product.
PERFECT SHAPE – The Shape Of The Sponge Was Made With Total Precision & Purpose. From The Rounded Bottom, Curved Surface, Or Pointy End, This Sponge Covers An Array Of Angles For All Your Makeup Application Needs.
EASY TO USE & CLEAN - Pro or a novice, these ergonomically designed makeup sponges are easy to integrate into your daily routine. To clean, wet sponge in cold or lukewarm water. Apply a small amount of facial cleanser, antibacterial liquid soap, or sponge cleanser to the stained areas. DO NOT TWIST OR STRETCH THE SPONGE! Just squeeze to remove excess water.
CAN BE USED WET & DRY – When Wet The Sponges Expand & Become Softer So That The MakeUp Product Will Sit On Top Of Them Rather Than Being Absorbed. Remember Not to Wet The Sponge Too Much or It Will Suck Up The BB Cream
Using your fingers to blend in your makeup? You don't have to anymore, this set comes with tools that you won't regret picking up! This set will help you put makeup on like a pro and comes with 3 sponges that will assist you with full, medium, or light coverage leaving your makeup flawless, dazzling, and undetectable!
The sponges are high quality and will evenly distribute your foundation or powder instead of "sucking up" all over your expensive cosmetics into the sponge. These latex-free makeup sponges apply and blend cosmetics smoothly across the skin to create photo-ready complexions.
The unique shape of this latex-free oblong blending sponge provides a comfortable grip, while easily reaching facial contours during make-up application. It makes applications easy by allowing you to access hard-to-reach areas.
POINTED END – for hard-to-reach spots like around the nose and mouth, and below eyes. Contouring underside of cheekbone and jawline.
CURVED SURFACE/WAIST – For curved areas such as nose wing and chin.
ROUNDED BOTTOM – For larger areas such as forehead and cheeks. Sponges are reusable if cared for properly.
If used daily, we recommend washing your sponge frequently with a mild cleanser like baby shampoo. Rinse well and air dry.