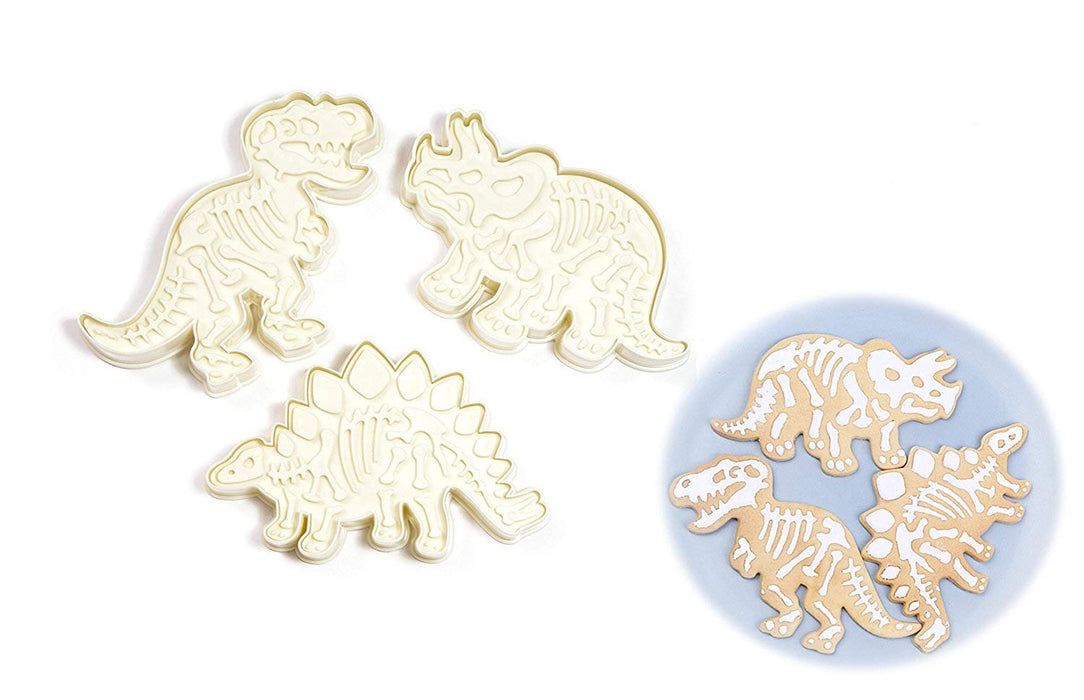 JJMG Dinosaur Fossil Shape Cookie Cutter (Set of 3)
FOOD GRADE MATERIAL – Made Of High-Quality Food Grade PVC Material Making It Safe To Use By You And Your Family.
DIFFERENT USES - Baking, Cooking, Fondant Icing, Playdoh Tracing Tools, Sandbox Toys, Cheese Sandwiches, Prehistoric Parties, Theme Birthday Party, Gifts For Your Friends Who Are Dino Lovers And Jurassic Park Themed Fun, and More.
PACKAGE INCLUDES – 3 Pieces Dinosaur Cookie Cutters And 3 Pieces Embossing Stamps.
EASY TO USE - Just Roll Flour Into A Pancake Shape. Put The Dinosaur Cookie Cutter On Flour And Cut Off, Embed the Stampers On It, And Press, Then You Will See A Dinosaurs Biscuits Mold.
EASY CLEANUP - Each Piece Is Dishwasher Safe And Easy To Wipe Clean.
JJMG NEW Set of 3 Dinosaur Fossil Shape Cookie Stamps/Cutters/Molds helps you create your own delicious dinosaur cookie fossils! This set allows you to cut stamp, bake, and ice tasty dinosaur cookies complete with their skeletal remains. Each dinosaur includes a cutter for creating a crisp outline as well as a stamper for pressing perfect bone depressions.
Fill them in with your delicious icing of choosing for cookies so striking they should be in a display at Jurassic Park. Each set includes three dinosaur cookie cutters: Stegosaurus, T. Rex, and Triceratops. Make these creative cookies for any occasion including birthdays, arts and crafts, school projects, and more!
These cutters are ideal for use with a range of edible and non-edible materials including fondant (sugar paste), gum paste, cookie dough, marzipan, chocolate clay, fruits, cut vegetables, candies, biscuits, cakes, or craft clay, DIY crafts with kids and so much more.
JJMG NEW Set of 3 Dinosaur Fossil Shape Cookie Stamps/Cutters/Molds is a DIY fun baking accessory that is easy to use and great for baking with kids. You can create delicious and unique design cookies that will wow your friends and family members.