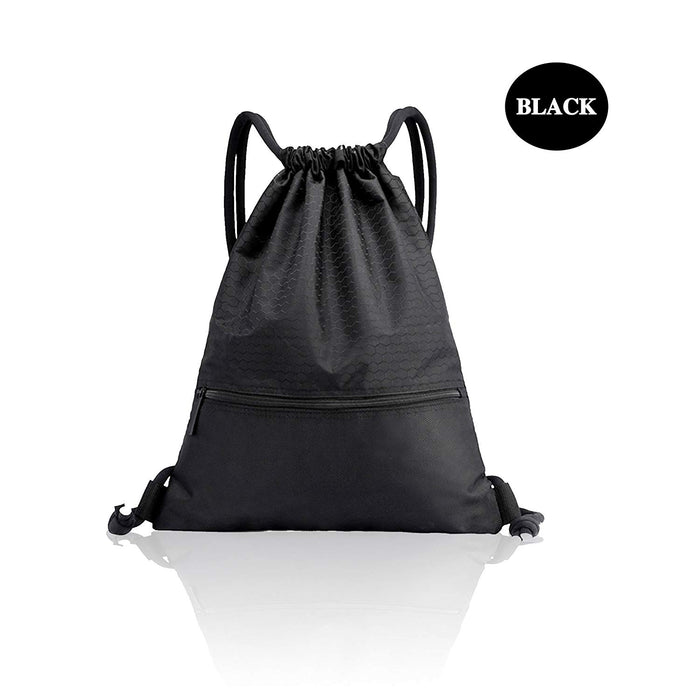 JJMG Drawstring Sports Bag
INTENDED USES - Our Drawstring Bags Can Fit For Multiple Activities Such As Swimming, Walking, Day Trips, Camping, Sports Practice, Overnight Stays, Vacation, Travel, Yoga, Running, Shopping, Jogging, Gym Sports And PE Kit.
LIGHTWEIGHT AND DURABLE - Ideal Size For Carrying A Variety Of Items Such As Workout Equipment, Sports Gear, Clothing, Shoes, Towel, Daily Supplies, Etc. Coming With Strong Stitches, High-Quality Zipper, And Sturdy Drawstrings.
ZIPPERED POCKET - Zippered Pockets Are All Made From High-Quality Materials That Can Store Well Your Items Like Cellphone, Sunglasses, Umbrella, Sunblock, Cosmetics, Jewelries, Toiletries, Few Books, Cards, Coin Purse, Etc.
WATER RESISTANT - Made From Highly Durable Water Resistant Material.
DIMENSION - Height: 50CM (19.68 inches) x Length: 42CM (16.53 inches)
If you're looking for a durable and lightweight sports bag that will accommodate you in any environment JJMG New Multifunctional Drawstring Lightweight Water Resistant Sports Bag is for you.
Our gym bag is sturdy, designed for versatility that can be used in any outdoor activities. Best for families, campers, backpackers, gym-goers, recreational, entertainment, sports, PE class, business, or the seasoned traveler. A must-have gym bag for gym-goers. Two drawstrings are very strong. Free up your hands and help you reduce your shoulder burden. Ideal size for carrying clothing, sports gear, and daily supplies. It is ultralight and can fold up easily to fit into any place without adding any weight/space. It has 2 storage areas.
A drawcord closures main storage compartments, and a front zipper pocket. A perfect addition to your fitness gear collection and also a great gift for your friends and family.