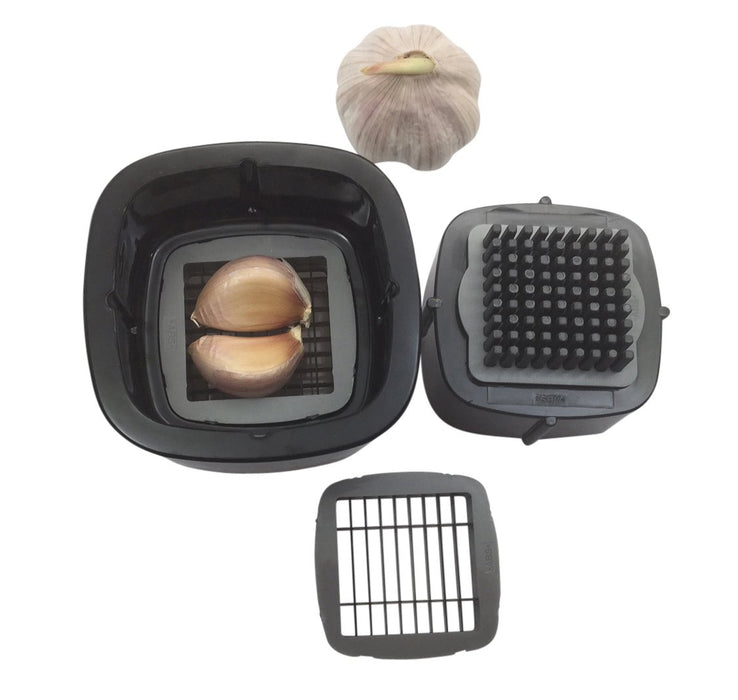 NO MESS. NO ODOR – Dice and Slice Garlic with Ease. Add Savory Aroma and Taste To Your Dish Without A Strong Garlicky Smell In Your Hands.
IMPROVED & ENHANCED - The Sharp And Strong Kitchen Accessory Allows You To Cut Any Soft Vegetables Such As Garlic, Ginger, Onions, Spring Onions, Small Mushrooms, Chili, Celery, Peppers Or Any Soft Fruit Pieces Like Apple, Banana, Pears, Cantaloupe, Watermelon, Mango, Kiwi, Strawberry And Many More.
EASY AS A PIE TO USE AND CLEAN – Effortlessly Cuts Through Soft Vegetables and Fruits By Pressing Down The Top. You Don't Even Have To Get Your Hands Dirty! No Need To Spend Much Time Removing Bits That Are Stuck In Between Just Give It A Quick Rinse Under The Tap Water or Run Through The Dishwasher. It Saves You A Lot Of Time From Having To Scrub Your Press After Use.
DURABLE MATERIALS – High-Quality Construction with Stainless Steel Blades And FDA Approved Plastic Material Safe To Use With Food.
STORAGE CONTAINER: Stores garlic in a clear container leaving no odor on hands. DIMENSION:8.5x7.3x7.3cm(approximately 3.35" x 2.87" x 2.87")
A garlic press is an essential tool that will make food preparation simpler. It can take a lot of soap to get the stink out of your hand and is important to clean the cutting board thoroughly, as garlic can harbor some toxic bacteria that can make you and your family ill. So, what are you waiting for? Say goodbye to smelly hands by using this innovative kitchen gadget that allows you to cut, slice, mince, crush unpeeled garlic or ginger so easily.
Its ergonomic design garlic/ginger press minimizes your hand contact with the pungent garlic juice. Its large, comfortable handle and clever design make crushing a breeze, even those with a weak grip or small hands. It comes with a large capacity of clear storage for your garlic/veggies so you can produce so much of it or any vegetable or fruits that you want to prepare.
Garlic press works by placing gloves of garlic in a compartment, then press using the ergonomic push lid firmly. Garlic skins are completely removed and garlic bits and juice fully extracted by sharp and strong stainless steel blades that push the garlic through a carefully crafted mincing plate. The compartment can take several gloves of garlic. And nothing is left in the press when you lift the cover the other way everything is pressed out to the container.
This garlic press doesn't take much strength or force to crush garlic, it is advisable to use for those who have arthritis. Very easy to clean and convenient to use.