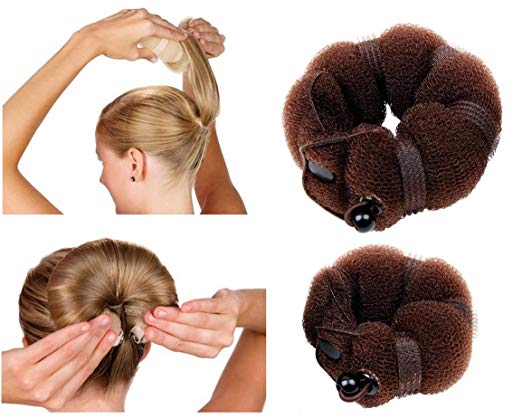 JJMG Hair Bun Maker Foam Sponge
FASHIONABLE & TRENDY – Create The Perfect Bun To Different Types of Hair To Keep Your Fashionable Hairstyle Looking Nice And Neat That Looks Perfect For Both Casual And Formal Occasions.
SUITABLE FOR DIFFERENT OCCASIONS – Such As Party, Dating, Weddings, Yoga, Ballet, Running, Dancing, etc. Adds Volume And Fullness To Your Hairstyle And Make You Look Elegant
LIGHTWEIGHT & FLEXIBLE – You Can Style Your Hair In Many Ways Whether You Have Short Or Long Hair For Various Occasions. It Is Lightweight So You Don't Even Notice It Is There.
TWO SIZES in 1 PACK – Available In Two Sizes, 1 Large: 10 inches long (25.5cm) and 1 Small: 7.5 Inches long (19cm)
Used by some of the most popular celebrities, these donut hair bun makers allow you to create beautiful hair buns easily and quickly.
You can use the bun maker to create dozens of perfect hairstyles. You can make buns in less than 2 minutes! No pins needed! Our package has two different sizes, large and small, so you can style your hair in more ways than ever, whether you have long or short hair! The small one is perfect for girls for ballets and dance recitals, portraits, school programs, plays, holidays, or any time a special hairstyle is needed.
With the help us your Hair Bun Makers, you now have the flexibility to create different hairstyles for various occasions.
Whether you need to pull your hair up for work, or looking for a new style for your girl's night out, these versatile donut bun makers will help you do so with ease. It's time to get rid of those dirty hair sock buns! Bun Makers also provide a fast and easy way to create beautiful wedding hairstyles for brides, bridesmaids, and flower girls.
How to use:
1) Pull hair back into a high ponytail and secure with elastic at the crown.
2) Place the hair donut at the very end of the ponytail and pull strands through the hole in the center. Starting in the front, smooth your hair over the donut, tucking the ends underneath. Try to disperse hair evenly around the donut.
3) Slowly roll the hair donut (along with your hair) down the ponytail until you reach the base. Flip the bottom side of the hair donut upward from the inside out with both hands. As you roll, tuck loose strands underneath the donut. When you reach the base, fill in gaps in the bun by spreading hair out.
4) Tidy up loose ends and strands by pinning them around the base. To make the bun fuller, gently tug and tease strands from the center portion of the bun outward.