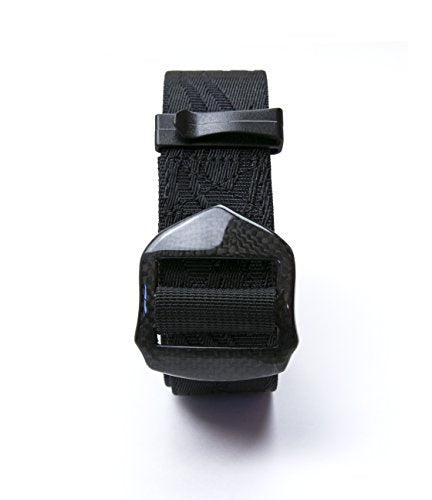 JJMG Men's Security Friendly Real Carbon Fiber Buckle Black 1.5" Belt
MATERIAL – Made From Real High Luxury Carbon Fiber Material And Pure Nylon Webbing Durable, Strong And Rip Resistant
FASHION BUCKLE – Hand-Polished Carbon Fiber Buckle, Hypoallergenic, No Nickel, Adjustable, And Lightweight
METAL FREE – Ideal For Travel, You Can Easily Go Through Airport Security
FULLY ADJUSTABLE – You Can Adjust The Belt To A Smaller Size Easily, Has A Movable And Detachable Belt Clip For Securing Belt
SIZE – Length: 125 cm. (49.2 inches) Width: 1.5 inches
Carbon fiber isn't metal, which means it won't set off the metal detector in the airport security checkpoint. This means you don't have to go through the silly process of removing a belt in the middle of a busy airport. In some cases, this wasn't the original intention; carbon fiber belt buckles are also useful for people with allergies or other sensitivities to metal.
JJMG NEW Men's Carbon Fiber Buckle With Durable Nylon Webbing Metal-Free Belt is not just fashionable but is hypoallergenic and nickel free. It perfectly fits with jeans, quick-dry trousers, and shorts. It is a perfect match for your personal character and is ideal for hiking, riding, fishing, climbing, camping, traveling, or any outdoor activities. You can wear it daily.
Our belt is nicely made of high-quality carbon material and top-quality nylon that is resistant to high temperature and low temperature. The buckle is beautifully designed and it has a clip that holds any extra belt tail. This belt is airport friendly that exempts you from hassle in the airport security. It can be a luxury gift to your friends, husband, boyfriend, businessman or any from the family members who like to collect belts.