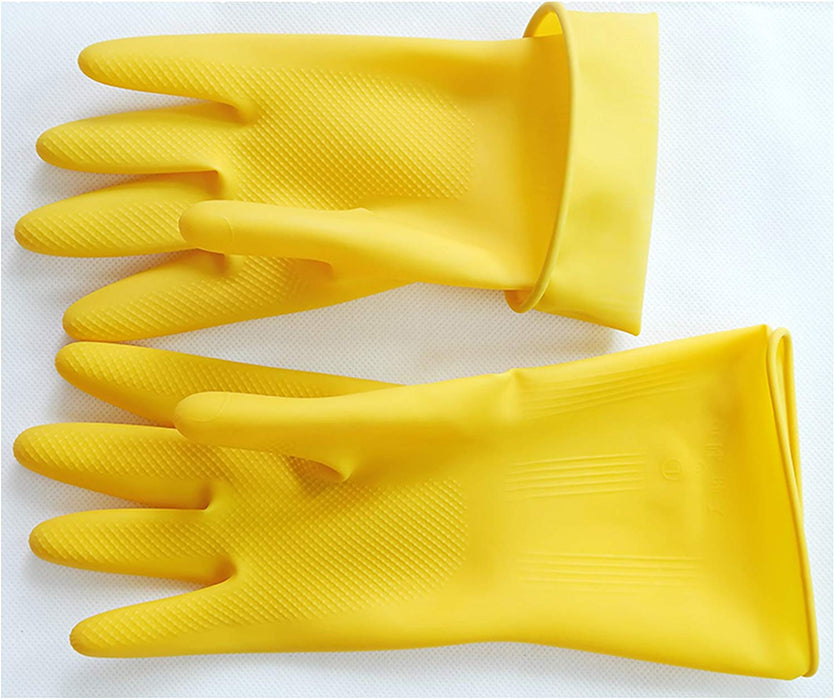 JJMG NEW Durable High Stretchable, Reusable Cleaning Rubber Gloves
MATERIAL - Made Of Friendly Rubber Latex Which Is Stain-Free And Odor-Free.
MULTIPURPOSE GLOVES - These Gloves Are Safe For General Chemicals, Washing Dishes, Car Washing, Washing Clothes, Gardening, Pet Care, Touching Unpleasant Stuffs You Won't Want On Your Hands. Protective Barrier Between Soil, Sand, Laundry Soap That Protects Your Hands To Help Prevent Dryness And Cracking.
DURABLE AND FLEXIBLE - Made From High-Quality Material It Resists Tears And Leaks Even After Prolonged Use.
ANTI-SKID DESIGN - Embossed Texture On Finger And Palm For Secure Grip.
EASY TO TAKE OFF AND WEAR - Extremely Comfortable To Wear Leaving Hands Feeling Fresh And Clean Even After Extended Use. After Using The Cleaning Gloves For Dishwashing, You Can Dry Them In the Sun.
Every day, we are exposed to dirt, chemicals, and other harmful particles that can enter the body through hands and skin that cause us to get sick. Gloves are effective in minimizing transfer risks. 
JJMG NEW Durable High Stretchability Reusable Cleaning Rubber Gloves For Kitchen Household Food Safety is designed with a special blend of latex and durable synthetic rubber. It is strong and more durable. They have a cotton flock lining for added comfort and ease of use. Flexible, comfortable to wear, and offers a high degree of sensitivity.
Our reusable gloves protect not just your hands but also your wrists and forearms from water and other possible contamination. These long clean gloves are just as handy whether you are cleaning and washing the dishes or tidying up the bathroom. Designed to conform to the contour of your hand. Can be rolled off for extra strength when donning. Embossed palm and fingers to prevent slipping when cleaning. These gloves are also ideal for working with foodstuffs. It comes in 3 sets of sizes Small, Medium, and Large.