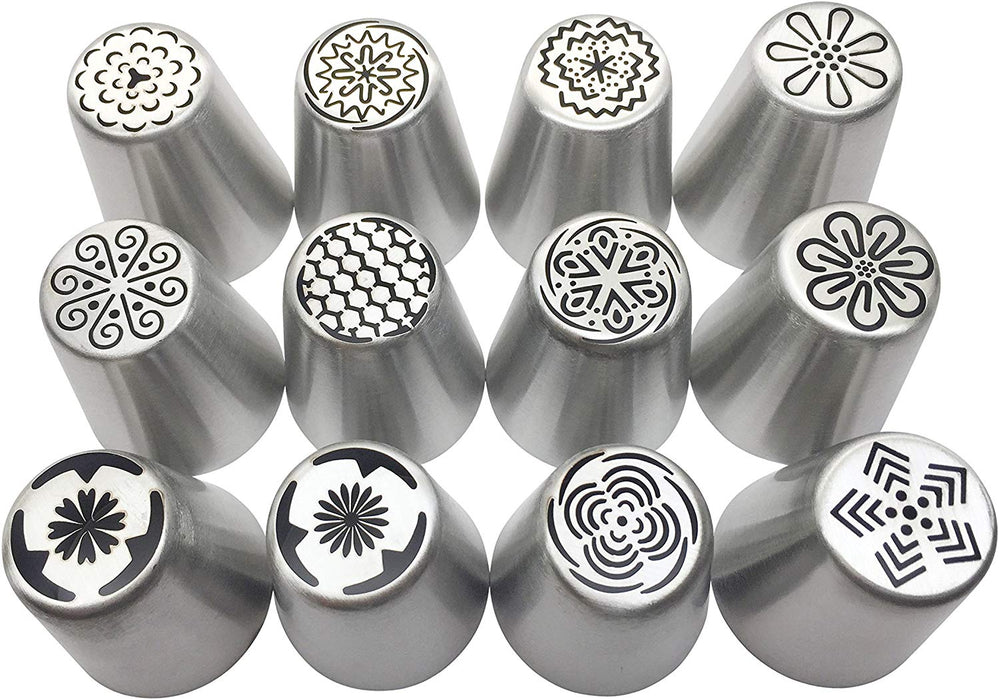 JJMG New Russian Large Piping Tips Set Icing Nozzles Fondant Cakes, Cupcakes, Cakes and Pastries Decorating Set (12 pieces)
HIGH QUALITY – Made Of Food Grade Material. 304 Stainless Steel Resistant To Oxidation, Corrosion, And Durability.
MADE TO LAST – Professionally Designed Pipings And Made From Grade 304 Stainless Steel Known To Last For Years. They Never Rust, Sturdy And Can Handle Stiff Icing Without Losing Shape. Created Using A Seamless Welding Process.
STYLISH DIY BAKING TOOL FOR BOTH PRO AND BEGINNER – Well Crafted Piping Tips That Create Beautiful Flowers To Decorate Your Cake, Cupcakes, Fondant Cakes, Muffins, And Cookies With A Professional Touch. You Can Do Pretty Much Anything From Flowers To Leaves, Icing Swirls, Rosettes, Tulips, Drop Flowers, Etc. Ideal For Professional Chefs, Enthusiastic Amateur Bakers, And Anyone Wishing To Awesomely Decorate.
EASY TO USE: It takes only one step to make beautiful dress ruffles whip cream or buttercream. Designed thinner than normal tips to make flowers more like real; unique style is suitable for both beginners and professional users.
REUSABLE PRODUCT – It Can Be Used Many Times Provided That You Wash It Thoroughly After Use With Soap And Water. It Is Also a Dishwasher Safe.
Decorate like a PRO! You'll have everything you need to start decorating your cakes, muffins, cupcakes, and cookies with a professional touch. This cake decorating kit comes with 12 icing Russian tips designed for the baking veteran or newbie. Create your own beautiful cake, cupcakes, and cookies with these icing nozzles that come in 12 different designs. Let your imagination run wild to decorate your pastry.
These Russian tips are made from 304 high-quality food-grade stainless steel with seamless one-piece construction. These tips are durable, it won't break, rust, crack, corrode, tarnish as their welding process ensures they hold their shape and lasts for life. These tools can create beautiful different kinds of flowers in one squeeze of the piping bag. You can make your own pretty flowers as you wish. It is now easier than ever to create a stunning floral design including lilies, rosettes, tulips, petals, drop designs, and other decorating designs for your pastries, cakes, cupcakes, cookies.
This set is very economical because it is reusable and durable. After using you clean it with clean water and soap, let it dry, and keep it from your cupboard. It is also dishwasher safe. This cake decorating kit is FDA approved to be 100% Free of toxins so it is safe to use.