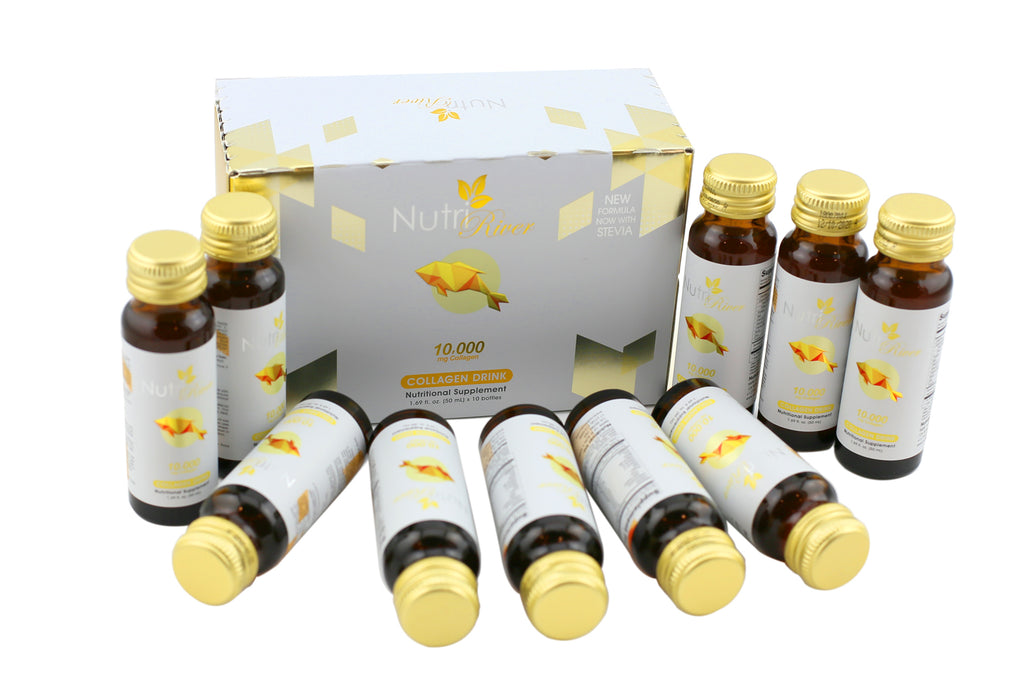 NutriRiver Collagen Fish Skin Drink
EASILY ABSORBED BY THE HUMAN BODY - Collagen Peptides Contain 8 of the 9 Essential Amino Acids And Are High In Proline, Glycine, And Hydroxyproline.
DELAYS AGING PROCESS - We Need A Collagen Supplement To Replace That Which Is Lost As We Age. After 30, Our Collagen Levels Start To Drop. A Gut Friendly Protein That Supports A Healthy Metabolism, Muscles, Joints, Bones, Ligaments, And Cartilage.
SKIN HEALTH - As We Age Collagen Production Declines And You May Notice Looser Skin, More Wrinkles and Less Elasticity. Taking Collagen In Weeks Helps Increase Collagen Levels
Which Makes Your Skin Looking Firmer, Increased Smoothness, And Keeping Skin Cells Renewing And Repairing Normally.
JOINTS, HAIR, AND NAILS - Collagen Peptides Product Can Improve Joint Function And Flexibility, Muscle Tone, Energy, And Endurance, Nail And Hair Growth, Wound Healing, Detoxification, And Much More.
NATURAL INGREDIENTS - It Contains Jasmine Sambac and Piperine. Jasmine Sambac Is A  Traditional Chinese Medicine That Significantly Increase Hydroxyproline Which Helps With Collagen Synthesis And Promoting Overall Skin Health. Piperine Can Enhances Overall Cardiovascular Health And Helps Our Cells Carry Nutrients Throughout The Body.
DESCRIPTION
Collagen is a complex structural protein that maintains strength and flexibility throughout the body. As we age, collagen depletion can lead to common signs of aging in the skin, hair, nails, muscles, tendons, ligaments, and bones. NutriRiver Collagen contains clinically studied fish skin collagen which supports healthy collagen formulation throughout the body.
Unique Elements Of NutriRiver Collagen
10,000mg Fish Collagen

100% Natural Extraction

Protein Purity: 93%+ per bottle

No Additives

No Contamination And No Preservatives

ISO 9001 / ISO 22000, HACCP Certificates

HALAL, Kosher Certificates
Effects*
Reduction In Roughness And Improve Texture*

Improve Skin Elasticity And Skin Hydration*

Reduce Wrinkles*

Helps To Clear Up Skin*

Increase Blood Circulation*

Produce Body Lean Mass*

Lowers Blood Sugar And Cholesterol Level*

Lowers Inflammation Which Is Caused By Eating High Fat Diet Or Obesity*

Reduce Arthritis Pain Level*

Slows Down Aging*

Build Lean Muscles And Increase Flexibility*
Legal Disclaimer: *

Statements have not been evaluated by the Food and Drug Administration. This product is not intended to diagnose, treat, cure or prevent any disease.