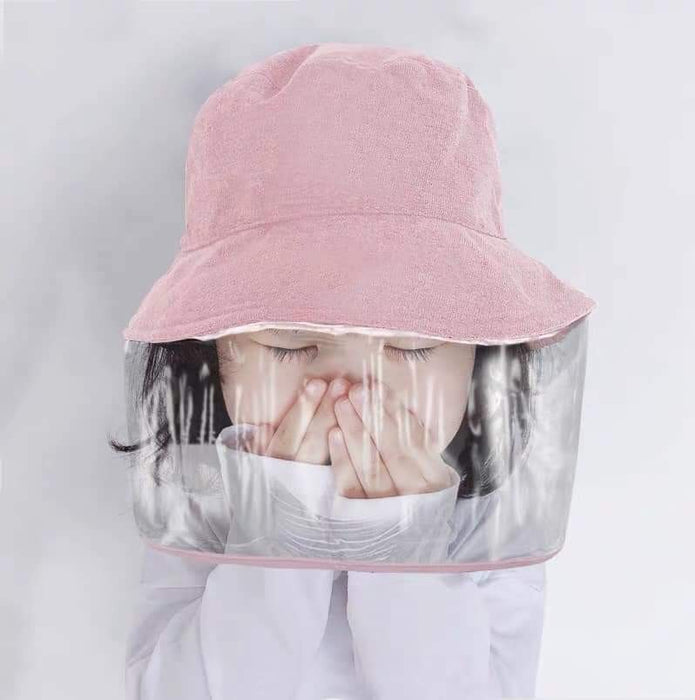 Pink Kids Hat with Faceshield
MATERIAL - Bucket/Fisherman hat is made of cotton fabric which is soft, cozy, and comfortable fit. A clear visor is made of TPU material with good transparency, rollable, and non-irritating.
FULL-FACE PROTECTION - Wide brim hat and above the neck safety covering that helps protect your face and eyes from harmful sun rays and its attached clear protective shield prevent exposure from dust, splashing liquids, droplets, and other harmful particles in the air.
AERODYNAMICS ARC DESIGN - Its arc shape improves the airflow direction, allows good air circulation yet reduces the entry of pollutants.
WIDE APPLICATION - Perfect for outdoor activities such as walking at the park, going to the supermarket, traveling, hiking, gardening, cycling, camping, taking public transportation (taxi, bus, trains), taking kids to school, going to the beach, and other public places.
EASY TO CLEAN - It is non-detachable and it can be washed with soap or wiped with disinfectant.
DESCRIPTION
This fashionable, soft, lightweight, breathable, and packable design wide brim bucket fisherman hat covers the entire face of your kids with an attached transparent TPU face shield that prevents you from the sun, dust, wind, droplets, and most fine harmful particles in the air to enter into the eyes, mouth, nose.
The protective fisherman bucket hat is made of 100% cotton, which is a soft and comfortable fit and non-irritating TPU material that is washable, reusable, and durable. Its full-face transparent visor provides clear visibility, perfect for daily face protection.
Make your little one more attractive by matching any style of his/her outfits. When not in use you can roll it up and put it in your bag and take it with you wherever you go. This is also an ideal gift for friends, family, and relatives.
Product Specifications:

MATERIAL: Cotton and TPU
ITEM TYPE: Bucket Hat with protective clear cover
COLOR: Pink, Yellow, and Black
GENDER: Boys and Girls aged 4 years old to 8 years old
STYLE: Casual
PACKAGE INCLUDES: 1 Piece Protective Hat