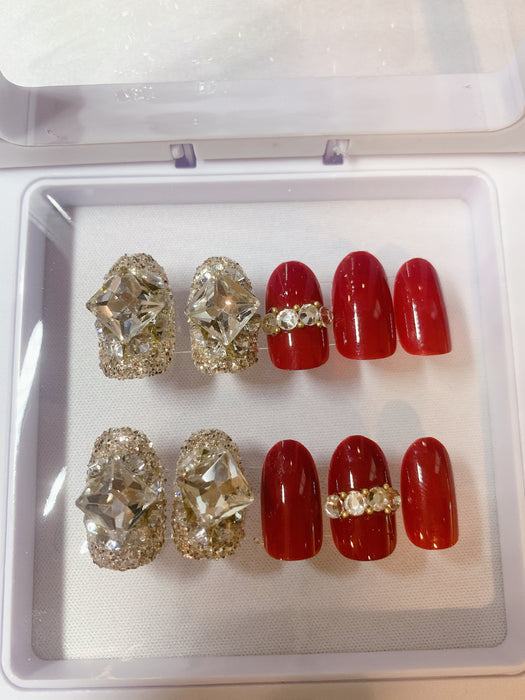 24-Piece Reusable Fake Nail Tips
NO GLUE NEEDED - Provides your nails an excellent and luxurious look in 20 seconds. All you need is water. Simply add water to glue the nails and it sticks better and longer than most glue on nails.
DO-IT-YOURSELF - No need to go to the salon and spend tons of time and money on the nail manicure, do it yourself at home, no extra equipment needed.
HIGH QUALITY & REUSABLE - Made from environmentally-friendly material and high-quality abs resin material that's non-toxic and provides you with a safe and comfortable nail art experience. Removable, Reusable, and Repositionable.
VARIED SIZE - 24 different sizes, fake nails fit most fingers and they're convenient to choose the suitable size that fits your every finger.
MULTIPLE APPLICATION - It's reusable! Great for both professional nail artists and new art learners. Gorgeous nail design for various occasions such as a wedding, party, theme parties, debut party, prom, a special gathering of female friends, and weekend dating.
Express yourself through color and the unique artistic design of your nails at the comfort of your own home. Say goodbye to color blemishes on clothes, carpet, or floors.
This innovative and reusable false nail art helps you color your nail easily and you can remove it. Water nails are so easy to apply. Just apply it with water and you're good to go!
A more healthy and environmentally friendly way to glam up your nails without getting on your cuticles and reducing corrosion to nails.
GUIDE HOW TO USE
HOW TO USE:
File the sides and cuticle area for an accurate fit with a manicure stick.

Clean your nails with acetone-based polish remover, then you can remove it much easier when you want.

Select the correct size of nails for each finger.

Put water on your nail. put on the false nails and press on them for 20 seconds.

File and shape new nails if needed.
HOW TO REMOVE:
Soak your nails in warm water for 1 minute.

Remove adhesive tabs. Clean the remaining glue that sticks to your nails.

Let the false nails dry and store them in the box.
HOW TO REUSE (each item contains 50 replacement glue)
You can reuse it by using the replacement glue.

Find the right size nails for each finger.

Brush water on the curved upside and glue it on fake nails.

Reuse it!