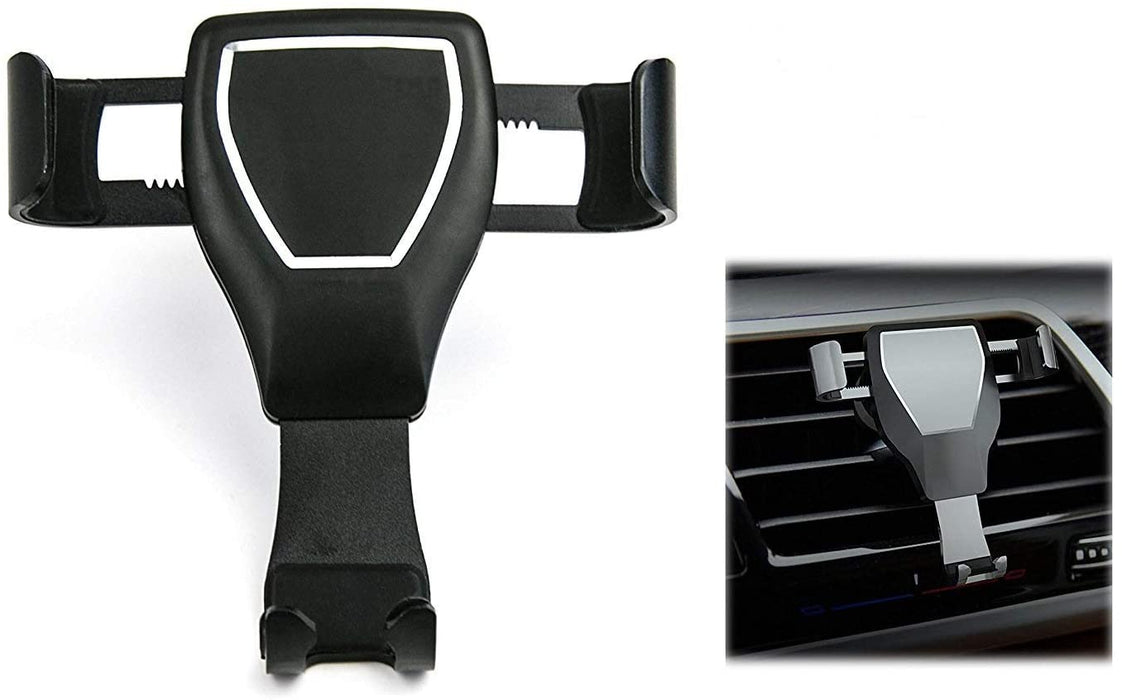 Universal Car Phone Air Vent Mount Holder for iPhone, Samsung - Cellphone Car Cradle (4.0" / 4.7" / 5.5" / 6.0")
COMPATIBLE WITH ALMOST ALL SIZES - Car Phone Holder Fits For iPhone 4, iPhone 5, and iPhone 6. Samsung Galaxy S5/S6/S7/S8, Google, LG, Huawei, Nexus, Other Smartphones between 4.0 - 6.0 inches Wide
RESERVED CHARGE HOLE - Reserved Charge Hole And Home Key, Convenient To Charge. Make Your Driving More Safe And Comfortable.
GRAVITY PHONE HOLDER - This Car Phone Mount Uses the Gravity Linkage Principle, Automatic Lock, And Release.
360 DEGREE ROTATION - Provides You With The Best Viewing Angle And Enjoyable Trip. The Holder Ensures Safe Driving Whether You Are Talking, Navigating, Listening To Music, Or Charging.
CAR VENT SUPPORTED - Suitable To Almost Types Of Car Air Vents, Vertical, Horizontal, Non-Intensive, Arc-Shaped, Retraction Type. IMPORTANT NOTE: Please Check Your Air Vent Style Before Ordering.
Driving with your phone in your hands is one of the most dangerous things you could do! JJMG NEW Universal Car Phone Air Vent Mount Holder is a compact and fully functional yet sophisticated mounting solution that fits easily into any vent in most vehicles (please refer to the image provided on the types of air vents compatible).
It provides a safe, versatile yet easy one-touch system that allows mounting and releasing of the device in just one push of a finger. Easy to install, you just clip it in the air vent. The air vent car mount is a much safer choice since it allows you to focus on the road and keep your hands free. The gravity car mount holder is also safe for your cellphone, thanks to its soft silicone clips. In this way, your expensive smartphone device will remain scratch-free and in excellent condition.
This device securely grips your gadget while driving. It has a 360-degree ball joint system, you can have multiple viewing angles fit for your driving situation. A ball joint allows you to freely adjust to get the most comfortable viewing angle but still safe and firm and not easy to jolt on bumpy roads. You can easily switch it between landscape and portrait orientations whenever required. This car phone holder does not support a thick otter box like a battery/power case. A reserved charge port enables you to recharge your phone.